PLEASE NOTE THAT, AS PART OF A RE-DO OF THE WIKI, MANY PAGES ARE CURRENTLY BEING DELETED.
Before editing, make sure to read our manual of style!

Therizinosaurus
Therizinosaurus, nicknamed "Claws", was a species of large herbivorous theropod dinosaur from Cretaceous Asia.

Haast's Eagle
The Haast's Eagle was a very large eagle native to New Zealand. It was the dominant predator of the island until humans arrived and hunted down the Moa, its only food source.

Giant Short Faced Bear
Arctodus, better known as the giant short faced bear or bulldog bear, was a very large bear native to North America during the Pleistocene and Holocene. Similar to a brown bear, it was larger and had an unusually slender build, with long legs.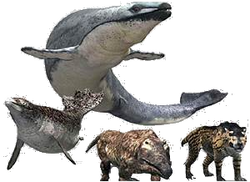 ---
To create a new page, enter the title below.